Motivation Institute - The power and influence that enables you to achieve
Darol Wagstaff

Darol Wagstaff is a full-time professional speaker, author, father, husband, and Life Coach. He is a faculty member of iLearningGlobal.TV, founder and president of Motivation Institute, Youth Motivation Institute, and president of the Champions For Life Speakers Bureau. In over 5,000 presentations given to millions of people, Darol speaks of his dreams, of things as they might be. His influence inspires those to whom he speaks, and changes the way they see themselves, their potential, opportunities, and future. As producer of several audio and video programs, and author of the books: Celebrate Life, Champions for Life, Coaching Your Kids, Natural High, and The Eagles' Nest, Darol is spreading words of happiness, hope, discipline and direction to others. He is also the author of the popular corporate seminars titled: Championship Performance, Generate Excellence, Winning at Work, and Working and Winning with Youth.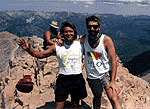 Darol comes from a family of ten children and is an identical twin. His fresh approach to life is supported by his experiences as a ski instructor,

hang glider pilot, parachutist, marathon runner, cross-country bicyclist, and most notably as a professional freestyle skier. From ages 17 to 21 he competed in several world ski championships, appeared in Warren Miller and Dick Barrymore ski films, has had his pictures and articles in magazines such as the Saturday Evening Post, and on international ski calendars, and set the current world record for the longest single front lay-out somersault on skis (164 feet)...
Resolving conflict, encouraging compassion, and consideration for each other, and defining individual purpose are characteristic of Darol's programs for youth who are "at risk." he developed the street gang Awareness Program; "GAP" and the gang intervention program; "Out of the Hood."

Darol served as the prevention education and community awareness committee chairman of the Utah Governor's Task Force on Youth Drug and Alcohol Abuse. He has been a volunteer counselor at the Salt Lake Juvenile Detention Center, the Utah State Prison, and was the At-Risk Youth Committee Chairman for the Granite Education Foundation. He is on the Donor Family Council for Intermountain Donor Services. He and his wife Loree have five children, four grandchildren, and they live in Northern, Utah.
Login
"When an individual is no longer a true participant, when he no longer feels a sense of responsibility to his society, the content of democracy is emptied. When culture is degraded and vulgarity enthroned, when the social system does not build security but induces peril, inexorably the individual is impelled to pull away from a soul-less society. This process produces alienation-perhaps the most pervasive and insidious development in contemporary society."
- Dr. Martin Luther King, Jr.